The casks add the characteristics of wood to whisky, developing the majority (about 70%) of the flavour profile as it matures.
Distilleries also apply secondary maturation or cask finishing to create new flavour and complexity. It is a practice where whisky is matured in various casks after maturing in one type of cask for a desired period of time.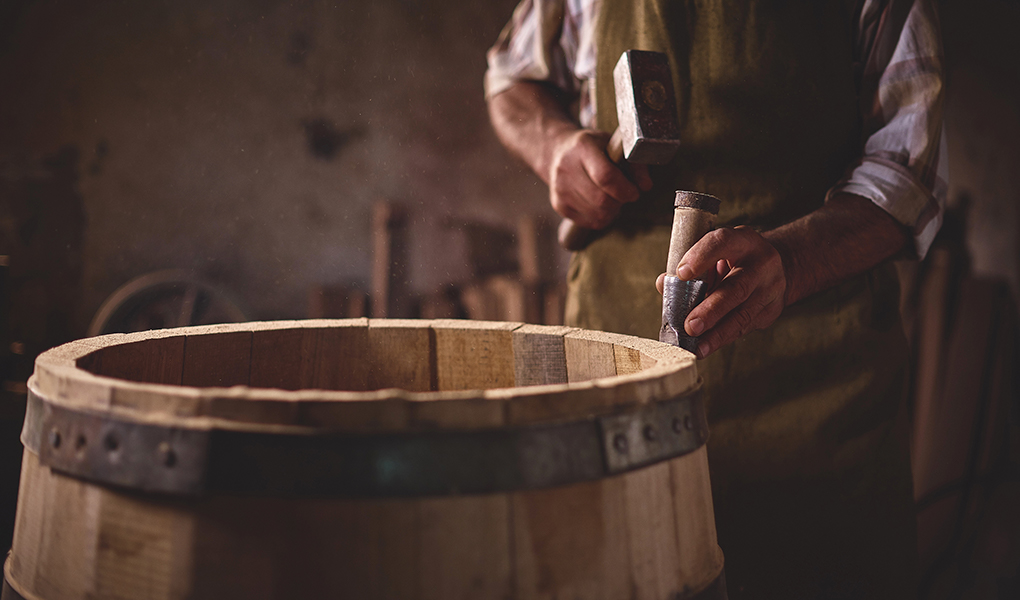 A cooper (a person who makes or repairs casks) uses different types of oak to make the casks of various sizes and capacities. Some of the commonly used casks for maturing or finishing whisky are:
Bourbon whisky cask
Sherry whisky cask
Wine whisky cask
BOURBON WHISKY CASK
By law, Bourbon must be made in the USA, and aged in new oak casks for at least two years. When these casks are emptied, they are often repurposed for maturing Scotch whisky.
Bourbon cask is made of American white oak. This oak wood contains vanillin which imparts sweet, creamy, caramel, and vanilla notes to the Scotch whisky.

SHERRY WHISKY CASK
Sherry is a fortified wine that is produced exclusively in the Jerez region of Spain. Sherry casks, which are also used for maturing whisky, are made from American white oak or European oak.
Commonly used sherry casks for whisky maturation** are Oloroso sherry, which imparts the whisky with notes of dried fruits, prunes, and spices, and the Pedro Ximenez, which gives the whisky a sweet flavour profile with notes of raisins and syrup.

WINE WHISKY CASK
Wine casks, not exclusively, are made of European oak. It imparts a slight dryness, spicy and woody flavours to whisky.
Casks that have once held various types of wine such as red wine, white wine, Sauternes, Cabernet Sauvignon, Pinot Noir, to name a few, are often used for maturing whisky. Maturation in wine casks enriches whisky with notes of fruits and spice.